Stained glass windows are handcrafted works of art that are generally used as accent pieces for hallways, foyers, bathrooms, or kitchens. Stained glass windows are also commonly used in churches, museums, and funeral homes. While they may not be everyone's cup of tea, stained glass windows can add a little spice to any room. Choose clear textured glass or subtle designs made with lighter colors if you want a good amount of light to pass.
Pros and Cons of Stained Glass Windows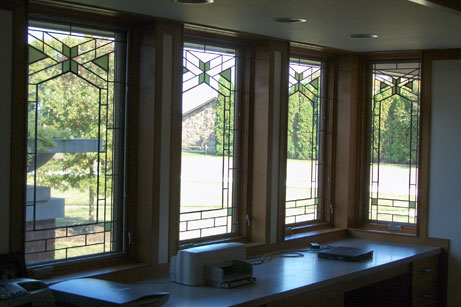 Some advantages of stained glass windows are:
Versatility – Stained glass is no longer limited to inoperable picture windows. It can be found on many different windows from awning to casement.
Attractive – Stained glass windows are often used to add visual appeal to a boring room. The window becomes the focal point, while giving the space a personal touch.
Privacy – Stained glass windows offer more privacy than other windows because they are colored and more difficult to see through.
Some disadvantages of stained glass windows are:
Limited light – Light can still pass through, but detailed designs and dark colors in stained glass windows can limit the amount of passable light, making the room appear darker.
Obstructed views – Stained glass windows offer privacy, but distorted views work both ways. When looking out or in, the scenery can appear blurry and washed in color.
Overuse – When used as an accent piece, stained glass can be pleasing to the eye. Outfit an entire room with it and the look goes from elegant to gaudy.
Florian Glass Service offers and installs stained glass windows and many other glass products and structures commercially and residentially in the Hudson County, Bergen County, and NYC areas in towns such as Hoboken, Jersey City, Union City, Ridgewood, West New York, Secaucus, Guttenberg, Teaneck, East Newark, Kearny, Cliffside Park, Saddle Brook, Saddle River, Fair Lawn, Englewood, Edgewater, Tenafly, Fort Lee, Alpine, Rutherford, Manhattan, and many more! Contact them today at (201) 863-4770 or visit the website.