While sliding glass doors look nice and have become very popular, swinging french doors are a superior choice compared to them. Here are some reasons why you should go for french doors if you are considering a home-renovation project:
Extra Advantages of French Doors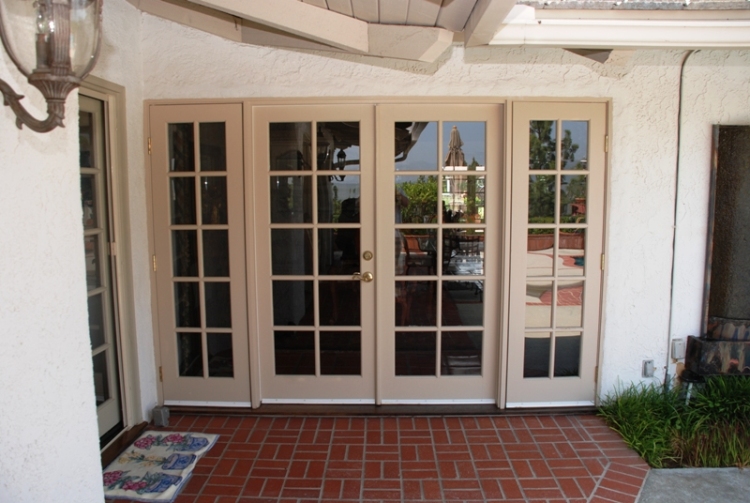 Safety Advantage – Hinged, swinging French Doors are a big time safety improvement from sliding glass doors. Sliding glass doors are on tracks and rollers and can easily be pried or popped from the outside by a burglar with common tools. Many homes that are broken into that are not broken into by the front door, take place when the criminal pops the sliders out of the tracks and removes the entire panel. French doors that swing out can't be kicked in or pried open. The hinges are exposed but are non-removable pin so that someone can't pop them from the outside. The door also locks with a steel rod at the top and bottom and gets a deadbolt that latches from the primary door to the stationary door, giving the door a locking mechanism at three points. Sliding glass doors have weak locking mechanisms in most cases as well. The simple push up and down from "locked" to "open" is incomparable to the security that the French Doors add. The glass is also almost always thicker on french doors in almost any case.
Function – If you have a 6′ sliding glass door, you can only get a maximum of 3′ open, while the same width unit in a french door would allow you to open both doors fully to gain nearly the entire 6′ of open space for moving large items in and out. If you have smaller sliding glass doors, such as 5′ wide, the problem can be even worse. Imagine trying to move a large couch through that! Half of the argument regarding function is the width change increase and the other is the ease of daily use. Sliding glass doors can be very heavy and they function on rollers that often wear out quickly due to weight being forced on them. Combine that with debris getting in the tracks and you may be straining just to open and close them. You don't have that problem with french doors
Appearance – Check out a few before and after pics of some french doors and see for yourself. Sliding glass doors are often times ratty and dreadful to look at. The old aluminum is either mill finish or dark brown or white and never matches anything.  With french doors, you can customize them to look just like you want and they can easily be the centerpiece of the room. While looks are different and vary for each home and home owner, most French Doors are much more appealing to the eye than the sliders.
Energy Efficient – There is a nice gain on energy savings with the French Doors. In the past, this was debatable, but not anymore. Today's French Doors are made of High Performance Fiberglass with glass that is at least 1″ thick and at least double paned. The solar heat transmission of the French Doors with Low E glass is almost 4 times better than an average sliding glass door unit. On top of that the hinged, swinging door seals better. French Doors have weatherstrip that tightly seals from outside air and water, while sliding glass doors are often just metal on metal.
Florian Glass Service can manufacture and install french doors as well as many other glass products and structures commercially and residentially in the Hudson County, Bergen County, and NYC areas in towns such as Hoboken, Jersey City, Union City, Rutherford, West New York, Secaucus, Hackensack, Wyckoff, Glen Rock, Kearny, Bayonne, Upper Saddle River, Fort Lee, Alpine, Manhattan, Lyndhurst, and many more! If you are interested in french doors or any other glass products, you can contact them today at (201) 863-4770 or visit the website.