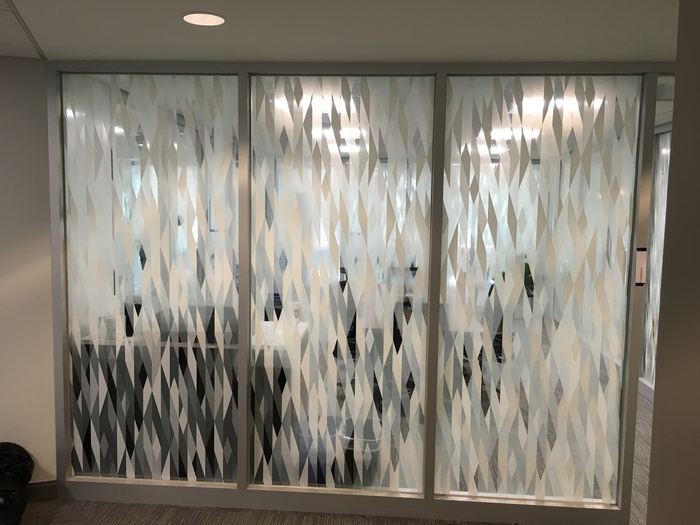 Florian Glass Service is the most reliable name in window film/tint Installation services in the NYC/NJ area. Window film or tint provides many benefits for your home or office. Not only can it provide visual aesthetic appeal, but it can also improve your health, your privacy and save you money! Here are some of the many benefits of window film/tint:
NYC Window Film Get Creative
Window film allows you to get creative with glass walls or railings.  Add tasteful patterns or designs to take the aesthetic appeal of your glass to the next level.  Perfect for offices, homes and even glass shower doors. Not only does window film help with the look and style of your glass, but it can also provide an extra layer of privacy inside your home of office. Keep the open feel without sacrificing all of your privacy!
Save Money with NYC Window Tint
Not only can window tint look nice, but it can also save you money on your heating & cooling costs.  Solar window tint can block heat caused by direct sunlight from entering the room by as much as 80%. This will have a drastic effect on your AC costs because your unit will not have t work nearly as hard to maintain a consistent temperature inside your home.
During cold months, the same tint will help retain heat inside, thus reducing your heating costs. When it comes to window tint, the return on investment is simply outstanding.
Clarity and Privacy With North Jersey Window Tint
Window tint can also reduce that annoying glare that temporarily blinds you when you make eye contact with it.  Tint will fix this problem, no-matter if it's wet sidewalk, a pool , or snow. Not only will it prevent glare, but it will also provide you with complete privacy.  Enjoy the serenity and beauty of the outdoors without feeing like you're on display for all to see.
Window Film/Tint Gallery