Adding a sunroom to your home can be a great thing for you, your family, and guests. A sunroom gives you space that is always naturally lit during the day, making it great for lounging and relaxing. Let's talk about some of the awesome things that a sunroom can provide for you.
Benefits of Getting a Sunroom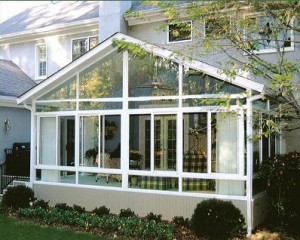 A sunroom can enhance the mood the people living in the home. Sunlight is beneficial to the health and can increase energy. Energy is what the body needs to move and complete daily tasks. A sunroom can improve a person's outlook and be a place to get rid of worries, problems, and blues. A sunroom addition is the perfect way to enjoy sunlight without being overexposed to other elements like wind or heat.
A sunroom is a great place to spend time with your family and friends during the winter season. Sunrooms are warm during the winter season, which is why they can provide you enjoyment and relaxation even if it is cold out.
A sunroom can function as greenhouse. With good sun exposure, a sunroom is a great way to experience a year-round indoor garden.
A sunroom addition can increase your property value. Homes with sunrooms are also proven to attract more potential buyers because people are drawn to having a great place for enjoyment and relaxation while not being directly exposed to the heat of the sun.
Sunrooms can easy installed in any home. A sunroom can be installed and built easily in a home. Opposite to the other room additions, sunroom additions don't require lot of time in order to be constructed.  An awkward place in your home can be converted in a sunroom for your convenience.
Sunrooms can also serve as screened-in porches. Screened-in porches are a great way to get rid of pests in the outdoors. Sunrooms feature windows that open and have screens to keep out of annoying bugs or insects.
A sunroom is a great place for hot tub installation. Sunrooms and hot tubs or small pools are perfect combination. Sunrooms can keep these features enjoyable all year long.  Hot tubs are known for the health benefits they bring to people.
Sunrooms are affordable. A sunroom addition will not cost you an extremely high amount of money and they can even save you money on energy bills. Today's sunroom systems allow better efficiencies in manufacturing and reduce cost of labor for installation.
Florian Glass Service installs sunrooms and many other glass products and structures commercially and residentially in the Hudson County, Bergen County, and NYC areas in towns such as Hoboken, Jersey City, Union City, West New York, Secaucus, Guttenberg, Teaneck East Newark, Kearny, Cliffside Park, Saddle Brook, Saddle River, Fair Lawn, Englewood, Edgewater, Tenafly, Fort Lee, Alpine, Rutherford, Manhattan, and many more! Contact them today at (201) 863-4770 or visit the website.
Northeast NJ Sunroom Installation Home Page