Shower screens and glass shower doors sometimes seem almost impossible to get completely clean. Your shower can be perfectly spotless but if there is still a residue build-up on the shower screen, then this can leave your shower looking dirty and uninviting. Using harsher chemicals for shower screens isn't something that some people ideally want to do. Luckily, there are several more natural cleaning solutions that will work on cleaning your glass shower screens without posing health risks to you and your family.
Things That Clean Shower Screens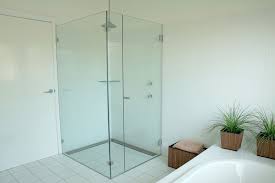 Magic Erasers – Magic Erasers are fine like fibers that power through grime without the use of any chemical detergents. Simply activate with water and wipe over the glass and that soap scum will come right of the shower screens.
Fabric Softener – By adding one cup of fabric softener to one liter of warm water is an effective way to get rid of that residue and soap scum on glass shower screens. Wipe the mixture on the door and then rinse it off with warm water from your shower.  If you happen to have a dryer and have dryer sheets handy, then wipe the dryer sheets along the shower door. This can also remove the soap scum.
White Vinegar – White vinegar is the one item that every household should have. It is effective and safe in cleaning a number of different things and shower screens are no different. Put white vinegar into a spray bottle and spray onto the shower door. Scrub the mixture onto the screen with a Non Scratch Scourer Scrub before rinsing off with warm water.
Bicarbonate of Soda – Bicarb is another great cleaning solution that will not only clean showers and shower screens, but also deodorize your bathroom. Wet shower screens before wiping them down with baking soda on a cloth. You can expect a paste to form on the door when you mix the baking soda with the water. Rinse off with warm water after.
Lemon Juice and Salt – This is the most effective option if your glass shower door frames are made out of metal. Over time you may notice that rust forms which can make your shower look dirty and old as well. Combine one tablespoon of lemon juice to two tablespoons of salt and form a paste. Using a toothbrush, scrub the mixture into the corners where the rust is forming. Let the mixture sit for a few minutes before rinsing it off with warm water.
Lemon Oil – Another good household remedy to keep the soap residue at bay is lemon oil. Simply spray lemon oil (orange oil works too) to the door and buff it off with a cloth. However, don't use this technique too often as it can cause some damage. Every two weeks should keep your shower looking fresh, clean and smelling much better too.
Florian Glass Service offers and installs glass shower screens and many other glass products and structures commercially and residentially in the Hudson County, Bergen County, and NYC areas in towns such as Hoboken, Jersey City, Union City, West New York, Secaucus, Guttenberg, Teaneck, East Newark, Kearny, Cliffside Park, Saddle Brook, Saddle River, Fair Lawn, Englewood, Edgewater, Tenafly, Fort Lee, Alpine, Rutherford, Manhattan, and many more! Contact them today at (201) 863-4770 or visit the website.