Sliding glass doors are great for getting a nice view of your yard as well as getting a bunch of natural light into your home during the day. With some occasional cleaning, sliding glass doors can add a lot to any home. Sometimes, sliding glass doors begin to stick and become difficult to open. Here are some things you can do to help with this problem:
Sliding Glass Doors Advice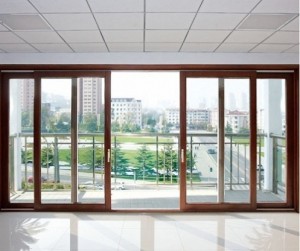 Clean the Sliding Glass Door Track. Standard sliding glass doors all have tracks. The track acts as a guide for the door and also allows roller wheels to help the door run smoothly. Over time the sliding glass door track accumulates dirt and grime. This slows down your door a lot. Use a toothbrush or wire brush to clean the inside of the sliding glass door track. The wire brush is more effective. Once all the dirt is cleared from the track use a vacuum to suck it up.
Lubricate the Sliding Glass Door Track. Use WD-40 or a silicone based lubricant  and spray the entire track. Make sure to wipe up any overspray that lands on the floor. It will create quite a slippery surface
Adjusting Sliding Glass Door Rollers for a Smoother Ride. Inside a standard sliding glass door there are adjustable rollers that help it slide back and forth on the track. There are holes on your sliding glass door that conceal the adjusting screws to these rollers. Use a screwdriver to turn the roller adjusting screw. This adjustment screw will move the roller height up or down and thus, your sliding glass door height will go up or down by as much as 1/4 inch or 1/2 cm. Mess around with the roller screws to see if the door glides better when it's at a lower or higher height. It's a good idea to spray some lubricant into the adjustment screw opening afterwards. This helps sliding glass door rollers operate a bit better.
Florian Glass Service offers and installs sliding glass doors and many other glass products and structures commercially and residentially in the Hudson County, Bergen County, and NYC areas in towns such as Hoboken, Jersey City, Union City, West New York, Secaucus, Guttenberg, Teaneck, East Newark, Kearny, Cliffside Park, Saddle Brook, Saddle River, Fair Lawn, Englewood, Edgewater, Tenafly, Fort Lee, Alpine, Rutherford, Manhattan, and many more! Contact them today at (201) 863-4770 or visit the website.