A shower is one of the first things you notice when you step into a bathroom, so make sure your glass shower doors not only match your style but also accentuate your bathroom. If you don't have the space (or budget) for a separate shower enclosure and bath, you've probably decided on a combined shower-bath. But should you go with a shower curtain or glass shower doors to enclose it? Some of us might gravitate toward the softer look of a colorful piece of waterproof fabric that can be changed at will, while others might love the no-nonsense efficiency of a sheer pane of glass. To help point you in the right direction, here are benefits of glass shower doors.
Glass Shower Doors – Benefits of Glass Shower Doors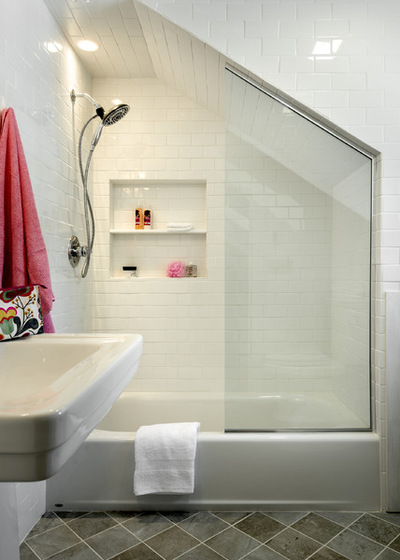 Go for a full enclosure
There's no fear of water escaping from this recessed bath, as the sliding glass shower doors fully enclose the tub in a neat, no-nonsense fashion.
Sliding panels of glass are also a good option where space is at a premium, as they don't need to hinge or pivot outward, eating into valuable floor inches and making fixtures and fittings awkward to use.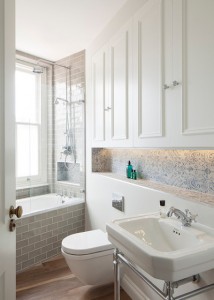 Utilize tricky spaces
A bath can be slotted rather neatly into an unused alcove or nook in a converted attic, but how to cope with the sloping ceilings if you fancy a shower, too?
Your best bet is to opt for a custom shower screen (lots of companies now offer them), which can accommodate tricky recesses and angles as well as nonstandard heights. You might well pay extra for this made-to-measure item, but for a neat, splash proof solution, it's worth its weight in gold.
Expand the space
A fixed panel of frameless glass looks the part in any style of bathroom, not least in an all-white, compact scheme, where fuss-free lines and classic materials win out. This is the best option if your bathroom is very compact and a curtain or fussier glass fittings would break up the space and visually shrink your room.
Keep it simple
If you have a lot going on in terms of decor in the rest of the bathroom — think colored tiles, paneled furniture and fancy sink fixtures — then perhaps a plain sheet of no-frills glass is the best solution.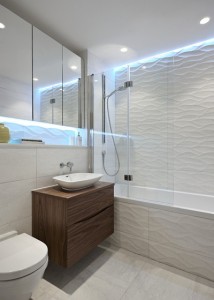 Look for glass that has been finished with a special coating so dirt and limescale won't accumulate and make it hard to keep clean. It might bump up the overall price of the screen, but it will save you lots of elbow grease.
Fold it away
There aren't lots of access options when it comes to shower curtains: draw to one side to step into the bath and pull right across, from end to end, when the water flow gets going. With shower screens, however, there's an array of possible configurations, including hinged, sliding and multi-paneled designs that concertina neatly out of the way.
This bathroom has a larger-than-standard glass screen made of two hinged sections. This makes getting in and out a cinch, and the screen folds out of the way when not in use.
Florian Glass Service offers and installs glass shower doors as well as many other glass products,  services or structures commercially and residentially in the Essex County, Hudson County, Bergen County, Passaic County, and NYC areas in towns such as Hoboken, Elmwood Park, Jersey City, Hillsdale, Short Hills, Englewood Cliffs, Totowa, Ho-Ho-Kus, Lodi, Glen Rock, Leonia, Bergenfield, Mahwah, Fairview, Little Ferry, Manhattan, and many more!
For more information on glass shower doors or other glass services or products, you can contact them today at(201) 863-4770 or visit the website.