A sunroom can be a great addition for any home. However, like any home addition project, there are some things to know and to be aware of. Here are some tips you should follow and consider before a sunroom installation :
Tips Before Buying a Sunroom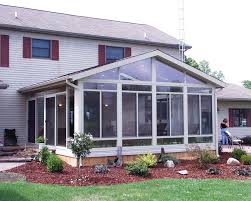 Compare the cost and value of a sunroom – Make sure the dealer offers a free, no obligation consultation and measure at your home to provide you with an exact cost for your project. Consultants can offer great ideas on how to utilize your current deck or patio as a foundation for your sunroom addition. Watch out for contractors who offer sunroom costs over the phone. This can hide the true cost of a sunroom project. Scheduling an appointment will be the only true way to be sure you can compare the sunroom cost and value of each product before selecting a sunroom company.
Ask about the electrical raceways – Be sure the sunroom has electrical raceways that meet national codes for approved wiring systems. Electrical raceways are not only safe but they shouldn't interfere with the sunroom décor. Watch for contractors who only offer electric as an afterthought by using awkward surface mount electrical boxes and conduit to run wiring and mount outlets.
Check the roller wheels on windows and doors – When building a sunroom, the sunroom windows and doors are of critical importance. The quality of the windows and doors not only provides the outdoor feel but they're a key factor in a fully insulated sunroom that allows you to entertain for four seasons. To maintain durability, it's the rollers that keep the windows and doors operating smoothly for the long term. Steel wheels on stainless steel tracks are the best system for heavy windows and doors. Be sure the wheels are covered under the warranty. There are also ways to fix sticking sliding doors yourself.
Ask about insurance – Workers compensation insurance is a big expense that many contractors don't want to absorb, so they cut corners by hiring sub–contractors to do the sunroom installation. If an uninsured worker is injured on your property, you could bear the liability and the original sunroom cost presented by the contractor becomes a huge loss.
Screens should be glare free – Many companies will show you pictures of sunrooms and screened porch photos that have fiberglass screens. Black aluminum screens minimize the obstruction of your outdoor view and are stronger than fiberglass screens.
Make sure the handles are in good condition and sturdy – Your sunroom will get lots of use, so the door handles should be strong and easy to use. Screen handles should be full size and well fastened.
Ask if sub-contractors will be used for the sunroom installation – If so, find out how and what part of the work will they do. If sub-contractors are used for specialty work on your sunroom installation, be sure they are fully insured and that your sunroom company will stand behind their work. Using installers whose only job is building a sunroom helps ensure that the sunroom cost doesn't begin to inflate.
Make sure to get the right permits and the necessary inspections – Identify what permits will be required and how they will be processed. Find out who will schedule the inspections required by your local building department.
Warranty – How long is the labor guarantee on your sunroom installation and what does it include? Ask about the manufacturer's warranty and who stands behind it.
Make sure the sunroom meets the national building standards – Your sunroom is part of your home and must meet the building standards established by national code councils. Sunroom components should be tested in an independent engineering laboratory to assure that these standards are met.
Florian Glass Service offers sunroom installation services and many other glass products, services, and structures commercially and residentially in the Hudson County, Bergen County, and NYC areas in towns such as Hoboken, Jersey City, Union City, Essex Fells, Secaucus, Guttenberg, Teaneck, East Newark, Kearny, Cliffside Park, Saddle Brook, Saddle River, Fair Lawn, Englewood, Edgewater, Tenafly, Fort Lee, Alpine, East Rutherford, Manhattan, and many more! Contact them today at (201) 863-4770 or visit the website.