Bay windows are becoming more and more common in homes. Here are some of the top reasons to bay window installation for your home:
Reasons for Bay Window Installation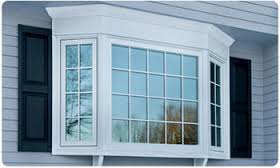 More Space: Bay windows instantly add the illusion of more space from both inside and outside of the home.
Added Light/Circulation: The multiple panels of glass in a bay window allow light to enter a room at different angles, adding more light to a room than a traditional window. This helps create a warm and welcoming room that feels brighter and more open. When open, bay windows allow air to enter from multiple directions increasing circulation and comfort of the room.
Storage Space: Bay windows are the perfect place to add a storage bench in a room. Whether it's for pillows and blankets in the living room or toys in a child's room, it's a practical addition.
Adds to Resale Value: Bay windows can increase the resale value of your home. By making your room seem larger and more inviting, a bay window adds appeal with potential buyers as well. Definitely a big reason to consider bay window installation.
Florian Glass Service offers bay windows and bay window installation services as well as many other glass services and products for structures commercially and residentially in the Essex County, Hudson County, Bergen County, and NYC areas in towns such as Hoboken, Allendale, Jersey City, Paramus, Short Hills, West New York, Secaucus, Ho-Ho-Kus, Lodi, Glen Rock, Leonia, Demarest, Fairview, Hasbrouck Heights, Little Ferry, Manhattan, and many more!
For more information on that or other glass services or products, you can contact them today at
(201) 863-4770 or visit the website.
Bay Window Installation Home Page