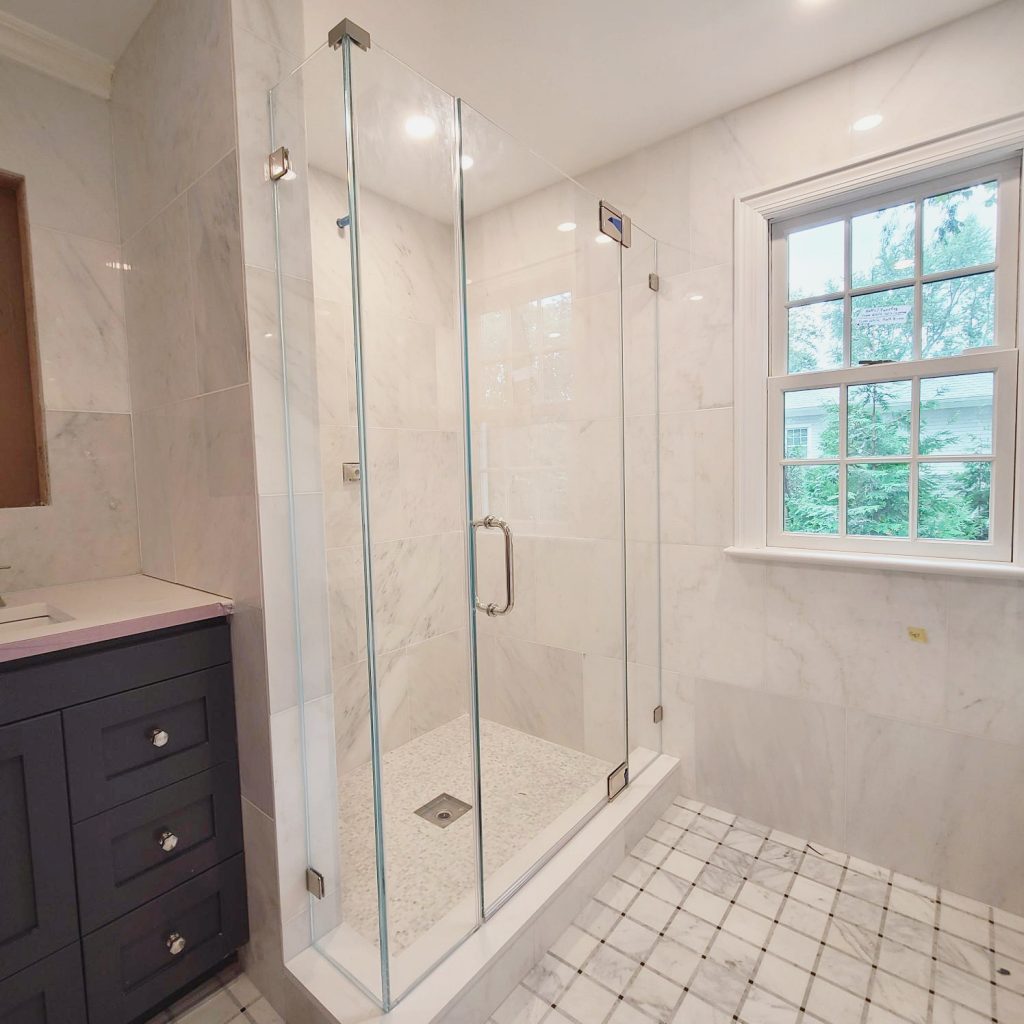 Rutherford glass shower doors are growing more and more in popularity, and for good reason! Contemporary home décor seeks to include elements that are sleek, simple, and sophisticated, and bathrooms are no exception. Since their introduction, there has been no better way to elevate your bathroom's ambience than with glass shower doors
Not only are they stylish, frameless shower doors come in a wide variety of sizes, color, and glass options. On top of that, they add value to your home! Frameless glass shower doors in Rutherford NJ are trending, and here some of their amazing advantages below:
Rutherford Glass Shower Doors | Bathroom Appears Larger:
Glass has an inherent quality of making a space look and feel larger. Frameless shower doors consist of heavy glass, that is 3/8" to 1/2" thick. Because the thicker glass flexes less, it requires no frame to support it. It also makes even the smallest of bathrooms feel bigger. Bathrooms of any size can be accommodated by different shower door configurations in frameless styles.
Rutherford Frameless Glass Shower Doors | Open & Airy Feeling:
Because frameless glass shower doors let you see past them, they don't serve as a visual wall like a shower curtain or framed door does. This creates an open and airy feeling making your bathroom seem larger, brighter and less confining.
Glass Shower Doors  in Bergen County | Allow Elegant Designs:
Frameless showers provide a seamless look by using almost no metal. The glass is mounted directly to the wall with minimal and discreet hardware. For an ultramodern look, many custom designs include glass on several or all sides.
Bergen County Frameless Glass Doors | Natural Light:
Natural light in the bathroom has many benefits. A source of vitamin D, flawless makeup application, hair removal, and greater self confidence. Shaving your legs behind a dark shower curtain or squinting under fluorescent lights is never ideal. When light affects your life so much, frameless glass shower doors ensure you have plenty of it.
Bergen County Glass Shower Doors | Creates a Spa-Like Experience:
Renovating a bathroom is great for return on investment, both financially and personally. Frameless glass shower doors foster an atmosphere of calm and transparency.
North Jersey Glass Shower Doors | Showcase Tile Designs:
Opaque doors mask the beauty of your shower by creating an illusion of a giant box sitting in your bathroom. This takes away the natural feel and splendor of your bathroom décor. Frameless glass shower doors provide a crystal clear view of the tile design, color and accents, thus allowing for greater aesthetic appreciation.
Looking for the Best Company for Rutherford Glass Shower Doors?
Florian Glass has been in the glass business for almost 80 years and offers the best of the best in glass services. They have the experience and expertise to get any job you have done well and choose to work with only the best materials available. Service areas include Manhattan, Hudson County, Bergen County, and other parts of NYC & Northern NJ. For more information on their services, contact them today by calling (201)863-4770 or visit the website!
Other Posts:
Hackensack Glass Partition Walls