Whether you are remodeling your bathroom or just considering the pros and cons, the pros and cons of glass shower doors may have left you stumped.  We're talking about more than convenience (I don't have to change the curtain or wash it when it gets dirty).  And we're also talking about more than personal style preference.  Read on for more reasons to consider installing glass shower doors in your home!
Top Reasons to Install Glass Shower Doors
1.  Functionality
Easier than curtains, glass shower doors slide effortlessly, or open and close, exactly the same way, every time.  That means you and your family will know your slippery space well, preventing stumbles and trips.  In addition, glass shower doors can be laminated or safety tempered in a way that increases durability and helps keep your maintenance low.
2.  Maintenance Preferences
If "low maintenance" pricked your ears, this is the top reason to install glass shower doors for you!  Shower doors are extremely easy to clean and maintain, especially if you get into the habit of using a squeegee after each use.  Hard water or scale buildup sometimes happens, but then all you need is a bath sponge with soapy warm water!  No chemicals or bleaches necessary!
3.  Budget
Though the cost of replacing a shower curtain may seem much lower than installing new glass shower doors at first, consider this:  shower curtains will need to be replaced. .. again. . . again . . . again.  Or at least, they will need to be scrubbed and washed, washed and scrubbed.  Glass shower doors are a buy once and done feature that adds beauty and appeal to your bathroom.  And let's face it, we may spend more waking time in our bathrooms than nearly any other room in the house!  A beautifully remodeled bathroom that includes glass shower doors is sure to peak the interest of a future buyer and increase your home value.  In fact, those beautiful doors may be the only reason they decide to buy!
4.  Health?
That's right – health.  As opposed to glass shower doors, typical shower curtains need to be properly and often cleaned and maintained to be sure no extra mold or mildew starts making it's home in your space.  Consider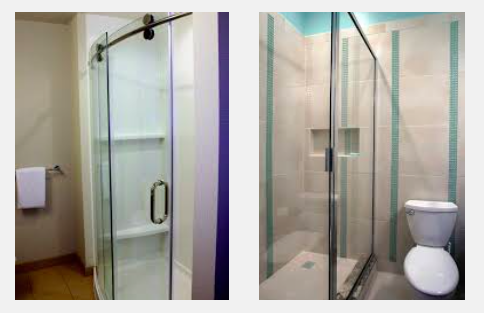 the dripping shower curtain that was left outside the edge of the tub instead of inside.  Not only are you bringing more moisture into the greater bathroom space, but you are opening up the opportunity for more mold, and more mildew throughout your bathroom.  Dripping shower curtains and even bring that mold and mildew under sideboards or a loose tile. . . not good for your health, or for your budget.
5.  Did we say Health?
Don't let number five pass you by if you are any sort of a health nut or organic loving naturalist.  PVC, or polyvinyl chloride is often included in vinyl shower curtains.  This is the same plastic shown to be troublesome to the environment and human health.  And that's not all!  Newer vinyl curtains release something called VOCs.  VOCs are volatile organic compounds, a toxin that can cause all kinds of health issues (think nausea, headaches, respiratory problems. . . etc.  These newer curtains can also release DEHP and organotins into the air – suspected carcinogens.  Don't take the change of liver, central nervous system, or kidney damage by leaving too much plastic and inorganic materials around.  Instead, install glass shower doors!
Florian Glass is the leading installer of glass shower doors in the Union County New Jersey area!
Click here to view a sample gallery of their glass shower door offerings.  Or contact them for more information today!
Call: 800.479.4774