Have you ever walked into your bathroom and wondered where that stale, musty smell is coming from? If you have a shower curtain, you have probably found the culprit. A shower curtain may seem like a simple choice for your bathroom, but over time, a glass shower door will keep your family safer, healthier, and make keeping the bathroom clean and sanitary a lot easier. Let a Manhattan glass shower doors specialist show you how to improve the look and care of your bathroom. You will soon discover that of all the NYC glass shower doors choices, ours can be a perfect fit for your home.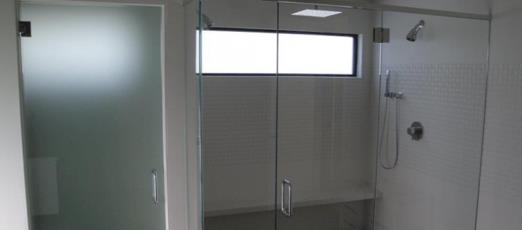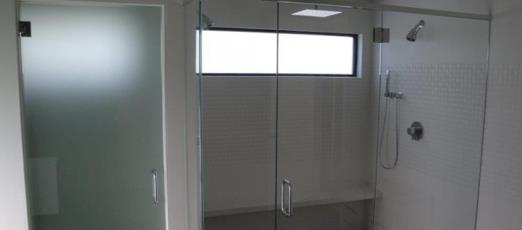 Ditch the Curtain | Manhattan Glass Shower Doors
If you have a curtain or liner in your shower, unfortunately, you probably also have mold or mildew. A shower curtain really never dries out fully, especially if you have one bath tub in your home, and people feel like they're on a waiting list to use it. Even if you try to remember to pull it across after every shower, it can quickly become unsanitary. Over time, the mold build-up can become a health hazard. Mold spores can spread into other rooms, and if it gets into air conditioning ducts, can spread through the house. Another problem with a shower curtain is that no matter how far across the tub you pull it, you almost always end up with a puddle on the floor. This can result in mold on the bathroom floor, or rot, which may require repair.
Advantage of a Glass Shower Door
Glass shower doors eliminate the need for shower curtains, most of which will require a liner. This is the part of your shower where the mold quickly builds up. Also, most shower liners contain harsh chemicals. Even when you go out of the way to buy a PVC free one, it is not completely chemical free. A glass door is easier to clean, and has no chemicals that can bother your family. You can always tell when you've just replaced the shower liner because you can just smell the plastic. And what happens to that plastic when you've had to replace yet another smelly, moldy liner? The chemicals it is made of are a hazard to the environment. These materials are not recyclable, and will break down, and over time, become water and air polluting. Glass doors have none of these harmful chemical side effects.
Glass Doors Save Money | Manhattan Glass Shower Doors
Every time you replace an old shower liner, you are spending money. Investing in glass shower doors will save you from this worry, and will add value to your home. Glass doors add a timeless elegance to any bathroom. If you decide to change the color scheme of your bathroom, your beautiful glass shower doors will go with any décor. You will not have to replace liners, or accentuating shower curtains. Hours of shopping and trying to find the best choice in curtains will be a thing of the past.
How to Keep your Glass Shower Doors Sparkling
Very simply, a squeegee hung by the doors are the easiest way to maintain that sparkle and shine. A solution of two parts water to one part vinegar with a few drops of dish soap will remove any soap scum you may have missed with the squeegee. Also, a half a lemon dipped into baking soda works like a charm to keep your shower doors like new. So if you want to make your bathroom a safer, healthier, more attractive place to be, contact a Manhattan glass shower doors specialist today.