Adding bathtub doors is an awesome choice to make when remodeling your bathroom. They are superior to shower curtains in all aspects. Here are a few reasons to install them in your bathroom.
Reasons to Install Bathtub Doors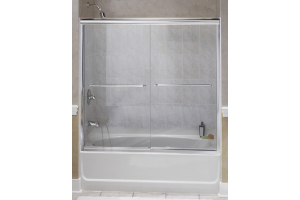 Mold Resistant – Mold is a common problem in bathrooms, especially in the bath area. it can cover plastic or vinyl shower curtains, but it does not easily stick to bathtub doors. If mold is a concern, choose sliding bathtub doors instead of a shower curtain.
Bathtub Doors Give Protection Against Water Damage – Water damage leads to expensive repairs every year in homes across America. Bathtub doors are sturdy; they prevent water from escaping the bath area during showers. Shower curtains fail to offer the same level of protection that is offered by sliding bathtub doors.
Open Design – For small bathrooms, sliding bathtub doors are an important design aspect. They allow light to flow creating the illusion of more space. The openness creates a pleasant atmosphere instead of the stifling, claustrophobic sensation that is usually left by shower curtains.
As you can see, bathtub doors bring  many benefits to any bathroom. Consider installing them as part of your bathroom remodel. Florian Glass Service can manufacture and install bathtub doors as well as many other glass products and structures commercially and residentially in the Hudson County, Bergen County, and NYC areas in towns such as Hoboken, Jersey City, Union City, Rutherford, West New York, Secaucus, Hackensack, Wyckoff, East Rutherford, Kearny, Bayonne, Saddle River, Fort Lee, Alpine, Manhattan, and many more! If you are interested in that or any other glass products, you can contact them today at (201) 863-4770 or visit the website.