Are you dealing with sliding glass door issues? Home owners place high importance on these doors during the warmer months. Your access to the deck, patio or backyard gets a lot more use this time of year. Do your Jersey City sliding glass doors need maintenance or replacement? You want the best Hudson County glass service to address concerns with your sliding glass doors. Is the locking mechanism faulty? Do you need the strength of ten men to open and close them? Your entire family needs easy access through these doors. Repairing broken glass or other structural damage is important. Knowing when to retire your old doors is also important.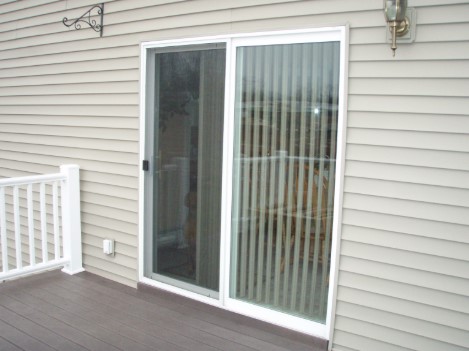 Jersey City Sliding Glass Doors | Replacing sliding glass doors in your home
Depending on when your home was constructed, the doors and windows may not be the best available. Getting them replaced is often a decision based on quality of design and function. Do you have old metal frames that collect condensation? Your door frames can transfer water vapor easily to floors and walls. Sliding door frames with vinyl coating prevent condensation from forming. Do you see visible discoloration around the frame or on the floor? Professional installers can identify structural damage while providing the estimate for replacement.
Double glazed windows offer a space between the panes to decrease energy transference. Triple glazed windows are even more efficient for keeping heat and cold air in place. Double and triple glazing adds significant weight to the door which is why fiberglass frames are also popular. Replacing older doors with either of these options is an investment that saves money. Your new doors will function better and improve energy efficiency for your home.
Jersey City Sliding Glass Doors | Keeping your home and family secure
Do you have a ground floor apartment? Is your condo on the eighteenth floor of a high rise? Home owners look for different locking mechanisms depending upon where their sliding glass door is located. Do you have little children that like to play escape artist? Home owners with small children prefer overhead locks that are out of reach.
Locking your balcony door is different from locking a ground floor patio. Home owner security is a personal preference. You may be replacing a ground floor door that doesn't have extensive security. You may be replacing a private balcony door that seems excessively secure. Keeping your home and family secure is an important decision to make when choosing a new door.
Jersey City Sliding Glass Doors | Getting the best doors from the best company
Deciding on the company to handle your door repair or replacement is as important as the doors you choose. Home owners share information freely when it comes to services that are personal. Are you concerned about who you invite into your home? Trusting any professional begins with a little investigation. Are they proudly sharing feedback from satisfied customers? Do they share proof of the quality of their work? Are you comfortable and confident working with them?
We provide quality service and workmanship when installing Jersey City sliding glass doors for residential and commercial customers. You can shop confidently when choosing our company. Your complete satisfaction is our primary objective. You can give us a call today to schedule an appointment. Our trained professionals are ready to evaluate your situation and provide solutions. You deserve the very best experience available in sliding glass door replacement and repair. Are you ready to get your old doors replaced? Calling us is the right choice to make. We look forward to hearing from you and serving you.