Are you thinking about adding a skylight to your NJ home or business? Skylights add great natural lighting to any room and can help you save some money on your power bill. There are a few different types of skylights that you can choose from, so today let's go over some of the basic options.
Different Skylight Options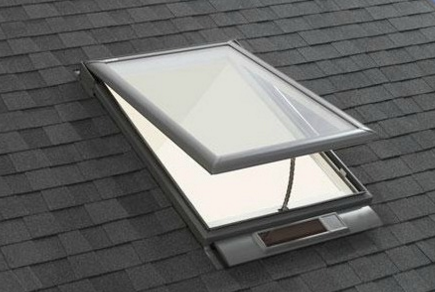 Fixed Skylight – These skylights cannot be opened, just like typical office building windows. With Fixed skylights, you get the benefit of natural light.  Because it is sealed in the factory, a fixed skylight is considered leak proof if installed correctly. The best place for a fixed skylight is where you want natural light but don't need venting.
Roof Windows – Roof windows are designed for  "in-reach" installations that require emergency escape and rescue capabilities, such as with a finished attic, a loft, or an above-garage bonus room. They work just like a regular window in that you can open them, and their sashes can be pivoted so you can clean the exterior pane of glass from inside the home.
Manual Venting Skylights – A Venting (or vented) skylight offers fresh air on-demand. During warmer  months, when there is too much sun, venting skylights can be opened electrically or manually to release that heat or moisture.  Those that are installed "in reach" are typically the best places for a manually vented skylight. The negative to manually vented skylights is that they can accidentally be left open, allowing rain to enter the house.
Electric Venting Skylights – Like manually operated venting skylights, an electric venting skylight offers natural ventilations. One distinct advantage of the electric skylights is that some of them can automatically close at the first drop of rain.
Florian Glass Service is glass company that also offers & installs skylights as well as many other glass products and services for buildings commercially and residentially. They serve the Essex County, Hudson County, Bergen County, Passaic County, and NYC areas in towns such as Hoboken, Norwood, Jersey City, Fort Lee, Short Hills, Wayne, Totowa, Hackensack, Wyckoff, Glen Rock, Leonia, Oakland, Garfield, Hasbrouck Heights, Essex Fells, Manhattan, and many more!
For more information on this glass contractor or other glass services or products, you can contact them today at
(201) 863-4770 or visit the website.