Adding custom glass shower doors is one way to transform an ordinary bathroom shower into a masterpiece. If you are considering custom glass shower doors, here are a few tips to think about before choosing:
Custom Glass Shower Doors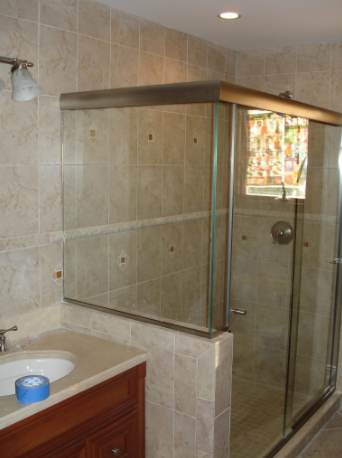 Functionality: While some shower enclosures might look pretty, that doesn't mean they'll work well. Before choosing your custom glass shower doors, think about how they will function in your bathroom. Everything from bathtub location to wall material makes a difference. Talk to the professionals to answer all your questions, including just how much glass your bathroom walls can support and what would work best in your available space.
Upkeep: The upkeep of a shower enclosure should be considered before buying. Different types of glass require different upkeep, so make sure you understand the maintenance requirements before making a purchase. For instance, sealed showers retain heat, which means they don't easily ventilate, so they require more cleaning.
Style: Glass shower doors have many style options to suit any bathroom design and personal style, including a multitude of types, colors, and finishes. Glass type is the most important, as it changes the amount of lighting that enters the room.
Looking for Custom Glass Shower Doors?
Florian Glass Service is offers and installs custom glass shower doors as well as many other glass products and services for buildings commercially and residentially. They serve the Essex County, Hudson County, Bergen County, Passaic County, and NYC areas in towns such as Hoboken, Norwood, Jersey City, Fort Lee, Short Hills, Wayne, Totowa, Hackensack, Wyckoff, Glen Rock, Leonia, Oakland, Garfield, Hasbrouck Heights, Essex Fells, Manhattan, and many more!
For more information on this glass contractor or other glass services or products, you can contact them today at(201) 863-4770 or visit the website.