Looking for the best Bergen County Table Tops? Florian Glass Services will provide the best table tops for your home. We provide you with any Bergen County emergency glass service, also. Glass is a beautiful addition to any home. A custom glass table top can be a huge addition to your home's décor. Glass table tops can be placed on a traditional base or a table with a different strange shape as long as it will safely support the balance of the glass. There are many different shapes to add to a table top. Here are a few: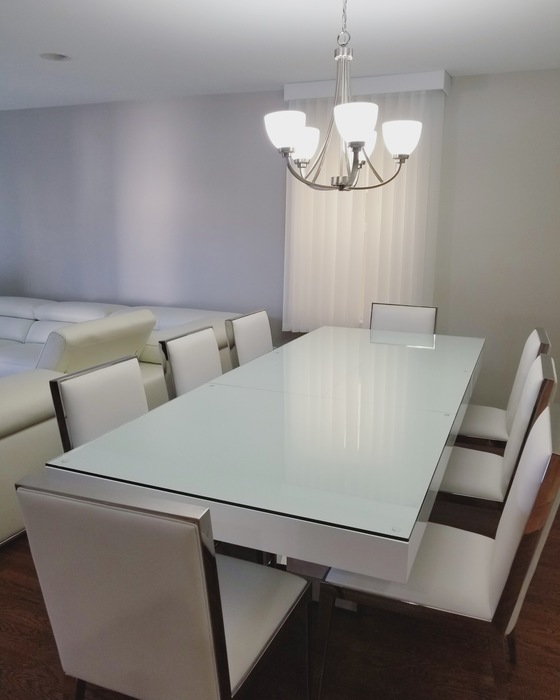 Bergen County Table Tops | Custom Made
If you have a small dining room area, adding a long table may be the best fit. A frosted or architectural glass can amplify any table. Once you add a beautiful table top to a regular plain table it will create a vision that calls attention to everyone because of the beautiful glass rather than the actual table. Even if you need a drafting table to work on, a glass top can be visually appealing. It will allow light to flow through while providing added work space. A custom designed table can be used for so many things, a coffee table, dining room table or end table. Adding glass to a wood table would be a great addition to your home.
Bergen County Table Tops | Unique Tops
If antique décor is your home's style, a table made from an old door cut into parts and built to form a base can give that appearance. If you work at home and have a particular room serving as your office you can add an awesome table to your office with an interesting base with a glass table top, that would be a great option for your home. Glass table tops are also great for outdoor tables. They are extremely easy to clean. You can place a glass table top to an old tree trunk and make a table a masterpiece. You can also get creative with making bases like an oversized planter to look inviting adding a glass top to it and making it useful.
Bergen County Table Tops | Usefullness
There are many things you can do to a table top. By adding a great glass table top to any table can make that table sturdier and stronger. Having an expensive wooden table that you cherish and want to take care of as long as you can, adding a glass table top to it can preserve it longer. You can write on the table and do basically anything on the table and the glass table top will protect it from anything that can potentially damage the beautiful wood.
Want Bergen County Table Tops? Want a custom glass topped table or need a glass to replacement? Florian Glass Services specializes in glass table tops. If you want a one-of-a-kind table topper for your office or living space or if you have a glass top table that needs a replacement, contact Florian Glass Services right away. We cut and install table tops and personalize them to the customers specifications. We do table tops in all sizes and shapes. Florian Glass Services offers table tops for bathrooms, kitchens and all living spaces. Our professional installers are committed to supplying all our customers with fast and courteous service every time. We have been helping residential and commercial clients with their glass needs for over 77 years. If you want information about all we have to offer in glass table tops and more give us a call at (800)479-4774 today and speak to one of our friendly customer service representatives and schedule and in-home estimate.
Other Posts:
Bergen County Emergency Glass Repair