If your bathroom needs a makeover, but you are on a budget, there could be a simple solution for you. Adding glass doors to your existing bathtub can really change the look of the whole bathroom. Custom shower glass doors are easy to clean, environmentally friendly, and can bring glamor to your bathroom. There are multiple finishes and looks to choose from, so there is something for every taste. Glass shower doors vary widely in design, glass thickness and obscurity. They are easy to keep clean, and you don't have to worry about coordinating curtains, because you no longer need them. Glass shower doors make your bathroom look sleek and attractive while adding functionality. Glass shower doors can really enhance the appearance of your bathroom, and can accentuate any décor. Whatever your style preference, a Bergen County shower doors sales team can help you find just what you're looking for.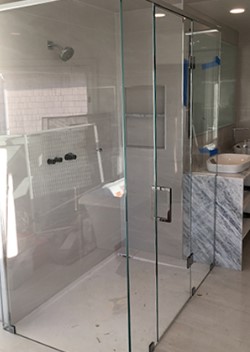 Bergen County Shower Doors | Dress Up an Old Tub
When people hear glass shower doors, they think of sleek, polished shower stalls showcased in home décor magazines. Glass shower doors are not just for stand up shower stalls, however. If you have a regular bathtub that needs a touch of glam, we have shower doors to fit your existing tub. Glass shower doors make it easy to change the look of your bathroom without a huge remodel. You can keep your existing fixtures because glass shower doors complement any décor. With the simple addition of glass shower doors, your bathroom could look like a picture from a magazine, too.
Bergen County Shower Doors | Ditch the Shower Liner
If your bathroom needs a makeover, chances are, the liner in the tub is not helping to add to the appeal. Shower liners get grimy and moldy faster than you can clean them. They consist of smelly chemicals, and despite what the labels may say, eventually, they all mold. These chemicals, and, of course, the mold, get into the air, making your liner a health hazard. Also, harmful materials in most shower liners aren't recyclable, ending up in landfills. If daily scrubbing of smelly shower liners is getting you down, glass doors are sleek and do not need constant replacing.
Bergen County Shower Doors | Cleaning Tips
Now that you have gotten rid of smelly chemical laden liners, you can clean your new glass doors naturally. Use items you have on hand. Keep those doors streak free and sparkling with the power of lemon juice and baking soda. Simply dip a cut lemon half into some baking soda, and rub onto the glass. The lemon smell is a wonderful natural alternative to bleach and harsh chemical glass cleaners. Some experts also recommend applying a little lemon oil to the clean doors. The oil adds more lemon scent, and repels water, leaving less streaking and soap scum residue.
If you are looking for a beautiful bathroom transformation, consider new glass shower doors. There are many variations to choose from. You might consider clear, see through glass, or frosted glass. The main advantage to the frosted glass is its opaqueness, which adds more privacy. You can consider whether a framed door, or a frameless option is your best design choice. With many thicknesses, frames and designs to browse through, you will not be at a loss to find the doors to suit you. Whether it is vintage or modern, new shower doors add a touch of elegance and complete the look of your bathroom. Make it a showcase to be proud of and share with guests. If you are unsure which doors are best for your bathroom, a Bergen County shower doors representative is here to help.