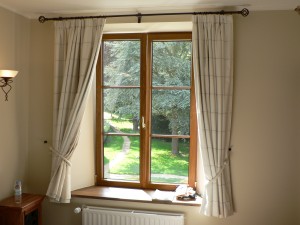 Are you wondering if it is time to replace your house windows?  Deciding whether to repair or replace windows can be a difficult choice to make.  Windows are one of the most important features of your home, but they can also be pretty costly.  Often times repairing existing house windows is a better investment than replacing them.  However, there are some specific signs that indicate it's time to consider replacing your windows altogether. Today, we are going to take a look at some of the reasons you should call a professional glass service company to replace your windows.  If your windows fit more than 3 of these scenarios, it is time to seriously consider house window replacement instead of house window repair.
When To Consider Union County Area House Window Replacement:
Windows Are Drafty.  A drafty window allows air to travel through even if it is closed.  In the summer time, cool air is escaping from your home and hot air is getting in.  In the winter, the opposite happens.  Not only does this make your house uncomfortable, but it significantly raises your monthly energy bill.  To see if your windows let in a draft, slowly move a lit candle around the edges of your windows. If the flame flickers, then air is coming through.  Drafty windows should be replaced with more energy-efficient windows.
Opening and Closing Windows Has Become a Chore.  The rollers and guides that allow windows to easily slide open and closed wear out over time.  If opening and closing windows has become a difficult process that you tend to avoid, then it might be time to replace your house windows.
You See Sunlight Around the Perimeter of The Windows. If natural light can com in through the non-glass perimeter of your windows, then you most likely have a broken seal.   This allows air to pass freely through the seal and significantly reduces the energy efficiency of the windows.  Left un attended, this problem can send your energy bills soaring.  Replacing house windows is the best route to take in this situation.
Your Windows Are Difficult To Clean.  Modern windows come with more convenient cleaning options. Older windows could be cleaned only from the outside. Modern windows have features that allow exterior glass to be cleaned from inside by tilting the sash inward for easy access.  If your windows are old and difficult to clean, it may be time to replace them.
Windows Are Always Foggy.  If fog or droplets of water are consistently in between the panes of glass, this is a sign that the interior seal of the window has worn out.  Your heating and cooling systems are working overtime to compensate for the loss of temperature.  Replacing the window is highly recommended.
You Notice Your Paint, Furniture or Pictures is Fading.  Older windows allow UV rays from the sun to enter your home. Over time, this leads to fading or discoloration of furniture, artwork and paint. Fabrics, are especially susceptible to fading when exposed to UV rays. Replacing your old windows with modern energy efficient windows with UV protection can extend the life of many household items.
If your house windows fit more than 3 of these scenarios, it is time to seriously consider house window replacement instead of house window repair.
Florian Glass Service repairs and replaces house windows and many other glass products and structures commercially and residentially in the Hudson County, Bergen County, and NYC areas in towns such as Hoboken, Jersey City, Union City, Ridgewood, West New York, Secaucus, Guttenberg, Teaneck, East Newark, Kearny, Cliffside Park, Saddle Brook, Essex Fells, Fair Lawn, Englewood, Millburn, Tenafly, Fort Lee, Alpine, Rutherford, Manhattan, and many more! For more information, you can contact them today at (201) 863-4770 or visit the website.