Glass partition walls are a popular option for many offices and their cubicles. While there are many great reasons to install glass partition walls, you should also be aware of the few cons. Here are the pros and cons of installing glass partition walls.
Pros of Glass Partition Walls
Less secrecy – Now everyone can see who's coming in and who's leaving the boss's office, how long they're in there, and what their body language looks like during the meeting. And with long stretches of transparent glass partition walls, the company itself projects an image of openness. This, of course, probably doesn't stop all the gossip, but at least employees are less likely to feel in the dark when it comes to major shakeups. The boss also benefits from this pro because employees are less likely to slack off.
More open communication – One of the main reasons companies have switched to glass partition walls is to encourage more collaboration and discussion between employees and facilitate the free flow of ideas. Instead of having to knock on doors or duck into someone's cubicle, it's now easier for people to have quick conversations and brainstorming or troubleshooting sessions.
More natural light and views of the outdoors – Researchers have long touted the benefits of natural light to enhance the mood, productivity and creativity within an office. The introduction of glass partition walls has made it so that it's not just the folks with the window offices on the perimeter of the building who get to take advantage of all that nature has to offer.
Lower energy costs – With all the natural light flooding in, the company won't need to depend on artificial lighting as much, which equals lower electric bills.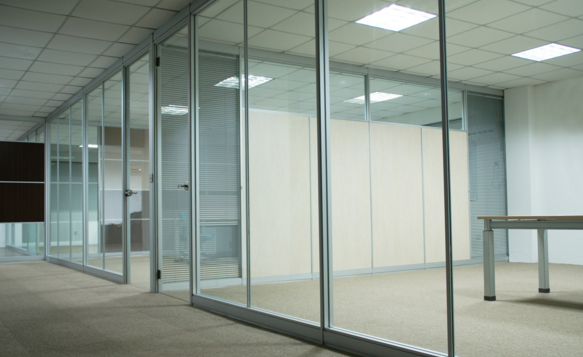 Cons of glass partition walls
Feeling like you're on display – Your little fishbowl might offer plenty of openness and natural light, but it also can make you feel a bit like you're in some sort of performance-art installation project on the life of the modern middle manager. What if you're having a rough day and need a good cry? Or, if you have a cold and are sneezing all day? Now everyone gets to watch the show.
No place to have private conversations – When everyone can see who's stopping in your office and read facial expressions, it can be tough to have those tough conversations. Whether someone is angry and yelling or upset and crying, with glass partition walls, there's no escape from the inner-office gossip machine. And pulling the blinds will only add to speculation.
People walking into walls – Birds aren't the only things that slam into glass partition walls. Some companies are adding etching or bubbling to their glass walls at eye level to prevent employees from walking into them unknowingly.
Noise levels – According to an article, 50 to 100 percent more noise can travel through a glass partition wall than traditional soundproofed drywall. So, not only can everyone see you waving your arms wildly in frustration, chances are they can hear some of what you're ranting about, too.
Florian Glass Service is glass company that also offers & installs glass partition walls as well as many other glass products and services for buildings commercially and residentially. They serve the Essex County, Hudson County, Bergen County, Passaic County, and NYC areas in towns such as Hoboken, Norwood, Jersey City, Fort Lee, Short Hills, Wayne, Totowa, Hackensack, Wyckoff, Glen Rock, Leonia, Oakland, Garfield, Hasbrouck Heights, Essex Fells, Manhattan, and many more!
For more information on this glass contractor or other glass services or products, you can contact them today at(201) 863-4770 or visit the website.