Whether or not you have the tools and know how to personally install your glass fixture, hiring professional installers of custom glass is the way to go!  Besides the obvious ability to "install custom glass," here are some other things professional installers of custom glass can do for you!
Professional Installers of Custom Glass Services:
Install All Types of Glass, in All Places!
It may be needless to say, but professional installers of custom glass are going to be able to correctly and efficiently install all types of custom glass, no matter where you need it!  Think bullet resistant glass for your business, insulated units for your surname, mirrors for your bedroom or frameless shower doors for your bath.  Ever consider a glass table top?  Professional installers of custom glass can often not only install glass you have already purchased and picked out, but will help provide you with the best options and styles that suit you and your needs and wants.
Emergency Services
In most cases, professional installers of custom glass are going to be able to offer emergency services as well.  Whether you need board up service for an approaching storm, construction, renovation, or a break-in, or replacement for a shattered window or cracked shower door or mirror, emergency service should be offered by any competent glass installer.  As in any emergency, you don't know when they will happen! So keep the number of a 24 hour glass emergency service on hand.
Comprehensive Offerings
The best installers of custom glass are also going to offer a comprehensive listing of glass services.  Here are just a few to look out for to know that your custom glass installers are top-notch:
Glass Storefronts
Of glass storefronts, the best installers of custom glass are going to offer tinted glass, tempered glass, custom mirror work, and more.  Here are some more to look out for, serving any need you could think of:
Herculite Glass Doors
Commercial Entrances
Bullet Resistant Glass
Tinted Glass
Heat Strengthened Glass
Glass Walls and Partitions
One Way Mirrorpanes
Complete Storefronts
Safety Glass
Burglar Resistant Glass
Tempered Glass
Commercial Skylights
Custom Mirror Work, and more!
Sunrooms
The best installers of custom glass are going to be able to install the most beautiful sunrooms to your home, as an addition, or to replace or enhance what you already have in your home or business.  A great custom glass company is going to offer in-home or on-site consultation and help recommend what contractors, architects, or interior designers may be best to work with you and your situation.  Click here to read more about sunrooms.
Skylights
Skylights come in hundreds of different styles, options, and designs.  They can help provide beautiful natural lighting to a space that not only saves energy to light the room, but gives you a greater sense of well-being.  The best installers of custom glass will work with experienced skylight designers to produce a computer-aided design (CAD) drawing of your skylight and different options.  This not only helps you better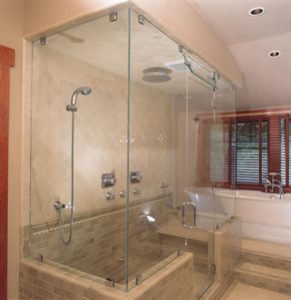 visualize the finished product before knocking a hole in your roof, but makes sure your vision matches that of your contractor.
Shower Doors
Glass shower doors come in a variety of types and custom styles.  Don't feel as though you need to stick with the same layout that your current bathroom and shower offers.  Custom glass shower doors can efficiently change the layout of your bathroom to produce more space and create a more clean and modern look.  The best installers of custom glass will be expert in custom glass shower doors and enclosure systems.
For the best installers of custom glass in the New Jersey area, call Florian Glass today!