New York City is a place that is bustling with people and businesses. If you want to stand out from the crowd and bring people into your store, you need a good looking storefront. It is important to get NYC storefront glass service to give your store the aesthetics it needs to bring in the business. When it comes to storefront glass, there are a lot of different options available to you. Each type has it's own pros and cons and may or may not fit the needs of your space. We'll take a look at some of the options here, but be sure to get a professional opinion when you call for NYC storefront glass service.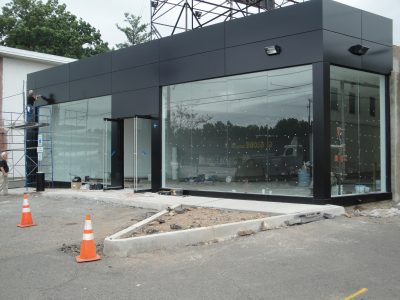 NYC Storefront Glass Service – What is Available?
1. Transparent Glass – Transparent glass is probably the most common type of glass that you'll find in many storefronts. There's nothing fancy about it, it's just your ordinary glass. The difference is made in the design and layout of that glass. It can either be another very ordinary storefront, or you can make even regular transparent glass bring your space alive. It provides great lighting and if you want potential customers to be able to see inside, this is probably a go to choice for you.
2. Tinted Glass – Tinted glass is another popular choice for your storefront. It does not meet as many needs as transparent glass does, but it may still be the perfect choice for your store. The tinted windows will provide some privacy that transparent glass cannot, and will also keep the levels of lighting under control.
3. Frosted Glass – Frosted glass is perfect if you want a high level of lighting to come in but want higher privacy levels than transparent glass offers. Frosted glass does just that and may be perfect for your place of business. It generally works well in a doctor's office or massage parlor where customers will prefer extra privacy. Be sure to ask your NYC storefront glass service expert if frosted glass may be right for you.
Are You in Need of Professional NYC Storefront Glass Service?
If your store needs professional NYC storefront glass service to bring it to life, you need to contact Florian Glass. They provide all of the glass services that you need whether it's commercial or residential. For over 75 years they've provided high quality glass services to the greater NYC area. If you want more information, contact Florian Glass today at (201)863-4770 or visit the website!