When it comes to glass shower doors, there are two main options. There are frameless shower doors and framed shower doors. Let's discuss what makes them different as well as the pros and cons of each one.
Frameless Shower Doors Vs. Framed
Frameless Shower Doors –
Frameless shower doors rely on heavy duty glass and special pivots for structural support. These units are free of metal around the operable part of the partition, but some may incorporate a metal frame or tracks along other parts of the enclosure, such as the bottom or edges. Shower doors and tub enclosures with metal on any part of the structure are sometimes referred to as semi-frameless.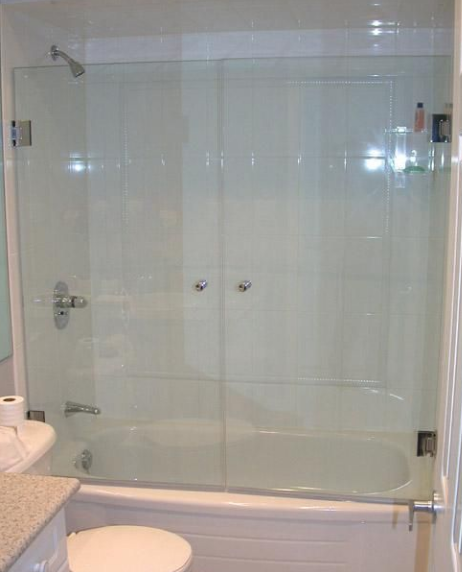 Pros:
The greatest advantage to using frameless shower doors is the variety of design options available. Frameless shower and tub enclosures may come in any size or style, allowing for optimal customization. The doors open in or out based on layout and design needs. With no frames to get in the way, frameless shower doors provide a more open, airy look, making it easy to show off beautiful tiles and other finishes. The lack of frames also makes for easier cleaning.
Cons:
Thanks to the heavier glass and smooth polished edges, frameless enclosures come at a premium price point compared to framed shower doors. The lack of seals and sweeps also means a greater chance of leaks, and limits where you can place the door in relation to the shower head.
Framed Shower Doors –
Framed shower doors traditionally feature aluminum or composite frames surrounding sheets of tempered or textured glass. The frames may be coated to create a chrome, bronze, nickel or gold finish. The metal on a framed shower door not only surrounds the operable part of the partition, but also other parts of the enclosure, such as the top, bottom, sides and joints. Seals, sweeps and magnetic hardware around the door help to create a watertight fit, keeping water from the shower and bath from leaking onto the floor of the bathroom.
Pros:
Thanks to their metal frame, framed doors and enclosures are highly effective at keeping water where it belongs. The seals and sweeps that come with these doors mean that the door can be placed anywhere, even right next to or in front of the shower spray, without fear of leaks. With no need for highly polished edges, thicker glass and specialty hardware, framed enclosures also tend to cost less than frameless models. They also offer plenty of decorative glass options because the frame lends much of the support needed for the enclosure, so less strength is needed from the glass itself.
Cons:
Drawbacks to framed enclosures are that they may appear dated in modern bathrooms, and they come in a limited range of sizes and shapes. Due to the frame, the doors on these structures only open out, which limits design options and layout.
Florian Glass Service is offers & installs frameless shower doors as well as many other glass products and services for buildings commercially and residentially. They serve the Essex County, Hudson County, Bergen County, Passaic County, and NYC areas in towns such as Hoboken, Norwood, Jersey City, Fort Lee, Short Hills, Wayne, Totowa, Hackensack, Wyckoff, Glen Rock, Leonia, Oakland, Garfield, Hasbrouck Heights, Essex Fells, Manhattan, and many more!
For more information on this glass contractor or other glass services or products, you can contact them today at(201) 863-4770 or visit the website.