Have you been thinking about adding custom glass railings to your Bergen County home? There are many reasons to consider frameless glass railings. Regardless of your décor, custom glass railings bring a unique factor to your design. Below are some of the top reasons homeowners have been installing custom glass railings:
Advantages of Installing Custom Glass Railings in Your Bergen County Home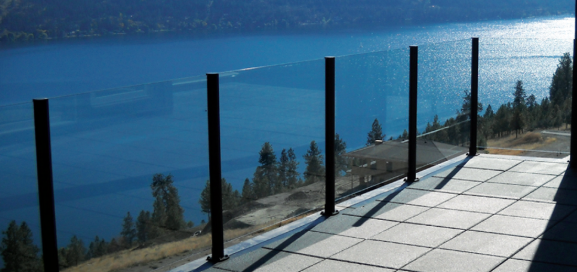 Unobstructed View:
Finally buy your dream home with a beautiful view. The last thing you want is that view to be interrupted by distracting railing. Custom glass railings will give your deck the illusion of no barrier between you and that stunning view. The proof is in the pudding when you take visitors on your deck for the first time and they gush over how fabulous it is.
Easy Maintenance:
Generally, custom glass railings will easily clean up with a sponge. Bergen County homes with small children or pets may require a bit more upkeep, but compared to traditional wood railings which require ongoing maintenance and repair, over their lifetime glass railings are relatively maintenance free. With different climates, glass railings don't create any mildew growth.
Safety:
With custom glass railings, either outdoors for a deck or indoors for a stairway, there is no fear of children or pets falling through, and allows them to enjoy the view as well without trying to climb up and see over the top of the rail. Glass railings constructed of tempered glass are sturdy and strong, removing the worry about breakage.
Available options:
Custom glass railings have a wide variety of tinted glass panels to choose from and colors for the vinyl components. Installation options for both exterior decks and balconies, as well as for the front porches.
Nice Appearance:
The clean lines and uninterrupted view of custom glass railings really do create a stunning finished product.
Looking for the Best Contractor to Install Custom Glass Railings in Your Bergen County Home?
Florian Glass Service offers custom glass railings and many other glass products  & services commercially and residentially in the Essex County, Hudson County, Bergen County, and NYC areas in towns such as Hoboken, Union City, Jersey City, Paramus, Short Hills, West New York, Secaucus, North Bergen, Lodi, Weehawken, Kearny, Demarest, Fairview, Hasbrouck Heights, Little Ferry, Manhattan, and many more! For more information on that or other other glass services or products, you can contact them today at (201) 863-4770 or visit the website.