At some point, many property owners will face the dilemma of shattered windows, broken storefronts, or compromised glass doors. Whether it's due to an unfortunate accident, weather damage, or even a break-in, the urgency to replace or repair the damaged glass is paramount. Not only is broken glass a safety hazard, but it can also expose your home or business to the elements and potential security breaches. Finding a reliable emergency glass service is crucial, but how do you ensure you're choosing the best? Here's a guide to help you make an informed decision.
How to Find Reliable Emergency Glass Services
1. Do Your Research:
With the digital age upon us, almost every business has an online presence. Start your search by typing "emergency glass services near me" into a search engine. Peruse the top results, visit company websites, and check their range of services. Look for providers who specialize in emergency services as they'll have the infrastructure and manpower to address your concerns promptly.
2. Check Reviews and Ratings:
Reviews can give you a glimpse of a company's reputation. Sites like Yelp, Google, and Better Business Bureau often have genuine customer reviews. While one or two negative reviews shouldn't dissuade you (no company is perfect), consistent complaints, especially about customer service or the quality of repairs, should raise a red flag.
3. Ask for Recommendations:
Word-of-mouth referrals can be incredibly reliable. Friends, family, neighbors, or fellow business owners might have had similar emergencies in the past. Their firsthand experience can guide you to trusted services or help you avoid unsatisfactory ones.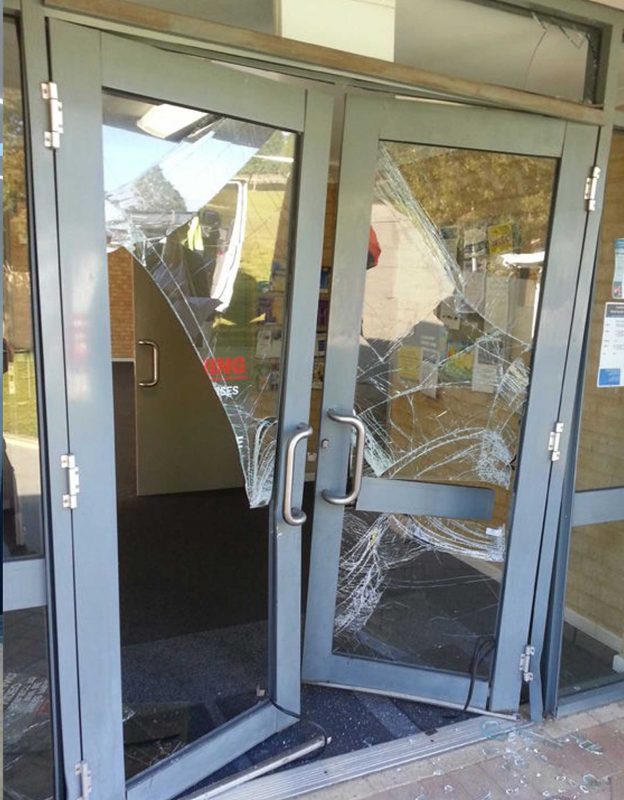 4. Ensure They Are Licensed and Insured:
The importance of this cannot be overstated. A licensed company is held to specific standards by state or local authorities. This ensures they have the necessary expertise and follow safety regulations. Additionally, an insured company means that if any damage occurs to your property during the repair or if any of the technicians get injured, you won't be held liable.
5. Response Time is Key:
When you're dealing with broken glass, time is of the essence. Companies that offer 24/7 services are ideal. However, it's not just about being available; it's about how quickly they can get to you and address the issue. When you call, ask about their average response time. If it's within a few hours, that's a good sign.
6. Ask About the Quality of Materials:
A reliable emergency glass service should use high-quality materials that comply with industry standards. Whether it's tempered glass, laminated glass, or double-glazed units, make sure the company uses materials that are durable and safe.
7. Get a Quote:
Price should never be your sole determining factor, but it's still an essential consideration. Too cheap might mean subpar quality or hidden fees, while too expensive doesn't always guarantee the best service. Get a written quote detailing the costs, including labor, materials, and any additional fees. This will help you avoid any unpleasant surprises when the bill arrives.
8. Gauge Their Customer Service:
Your first interaction with the company, be it through a call or email, can give you a good sense of their customer service. Are they courteous and attentive? Do they patiently address your concerns and answer questions? A company that values customer service is more likely to provide reliable and efficient emergency services.
9. Experience Matters:
While new companies might offer innovative solutions, nothing beats experience when it comes to emergency services. Companies that have been in the business for years, if not decades, have faced a myriad of challenges and are well-equipped to handle emergencies with efficiency.
10. Ensure Clear Communication:
It's essential that the company you choose communicates every step of the process clearly. Whether it's regarding the time of arrival, the kind of repairs needed, or post-repair maintenance, transparency is crucial.
Emergencies are, by nature, stressful. But with the right emergency glass service, a large part of that stress can be alleviated. By following the guidelines above, you can ensure that you find a reliable, efficient, and high-quality service to address your glass emergencies promptly and proficiently.
Get Reliable Emergency Glass Repair From Florian Glass Service!
Services We Offer Include:
Storefront entrances
Structural glass wall systems
Skylight and canopies
Windows and vents
Balcony railings and balustrades
Interior glazing
Sliding glass doors and walls
1 hour Insulated glass replacement
Florian Glass Service does emergency glass repair and offers many other glass products and services for buildings commercially and residentially. We serve the NYC area, as well as North NJ counties including Bergen County and Hudson County. Service towns in the Hudson County area include West New York, Jersey City, Union City, Bayonne, Hoboken, Secaucus, Guttenberg, Kearny, and many more! For more information on this glass contractor or other glass services or products, you can contact them today at (201) 863-4770 or visit the website.
Other Posts:
Bergen County Emergency Glass Repair