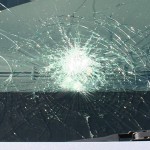 Having a damaged or broken windshield can disrupt you whole life.  Not only does it decrease visibility, but it creates a safety problem that needs to be addressed right away.  Why such urgency? A windshield is an essential safety feature of your car.  Cracks and damage can put you and your passengers at risk for injury.  Here are the top 2 reasons to never put off windshield repair:
Windshields allow airbags to properly function. Most passenger side airbags bounce off the windshield before moving forward to protect whoever is sitting in the seat.  If your windshield contains cracks or is damaged, the force of the airbag may cause it to pop totally out during a crash and the airbag will not work properly.
Chips in Windshields Turn to Cracks Over Time.  Anything as simple as a bumpy road, temperature changes or a host of other situations can easily change tiny chips in the glass into a large crack. Save yourself time and money by taking care of the problem right away.  Don't wait until you need to get the whole windshield replaced!
Florian Glass Service offers windshield repair and replacement as well as all other auto glass services in the Hudson County, Bergen County, and NYC areas in towns such as Hoboken, Jersey City, Union City, Rutherford, West New York, Secaucus, Hackensack, Teaneck, East Newark, Kearny, Cliffside Park, Saddle River, Essex Fells, Fair Lawn, Millburn, Tenafly, Fort Lee, Alpine, Manhattan, and many more!
For more information, you can contact them today at (201) 863-4770 or visit the website:
Windshield Repair/Replacement Home Page