If privacy or sun glare is an issue in your office, we have the answer. Window tinting cuts down on glare and adds privacy, while still allowing people inside to see out. Window tinting saves money on energy bills, prevents hot spots from direct sun, and makes the room more comfortable. Window tinting protects people from the harmful UV rays of the sun, while protecting wallpaper and furnishings. If you have furnishings that are fading due to the negative effects of direct sunlight, window tinting can help. Window tinting can add a sleek, professional look to any office front, while giving employees some space. Privacy isn't the only benefit, as any reputable Bergen County emergency glass repair specialist will tell you. In the event of window breakage, window film can keep a window together, and prevent shattering. Ask a Bergen County window tinting company how tinting can help your business.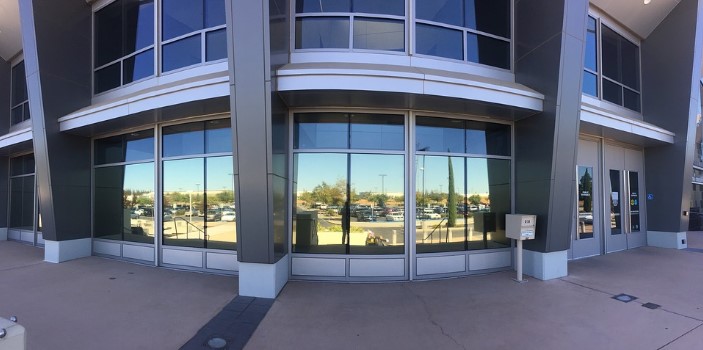 Bergen County Window Tinting | Energy Savings
Window tinting blocks as much as 80% of the sun glare and heat that would come through regular untreated glass. This reduction in direct sun and direct heat mean the room stays at a more constant temperature. In the summertime, this savings in direct heat and light could result in savings for your wallet. Hot spots don't occur like they would near untreated windows. Your cooling system doesn't have to work so hard to prevent them. Tinting helps in the cold months, too. In the winter, the tinting helps reduce heating costs, as it helps the room to retain heat.
Bergen County Window Tinting | Interior Glass Partitions
If you have interior glass partitions, you probably won't want the darkest privacy tinting here, but there are lots of options. Lighter, less opaque options can give some sense of privacy without completely making a room dark, or making people feel isolated. There are many decorative choices in window film that you can add to interior partitions to help divide spaces. These films might be more decorative, and dress up the space, while still allowing some light to pass through. Glass partitions are there to brighten a space and make it feel more airy, so there are many design choices. You have great options for residential or commercial applications.
Bergen County Window Tinting | Employee Benefits
When you have a comfortable work space, productivity increases. If your office staff is squinting at the sun as they move around the workplace, you may benefit from window tinting. If people are squirming in their seats because the sun is burning their skin, productivity tends to plummet. Create a comfortable, pleasing atmosphere with protective window tinting to reduce heat and glare. There are many degrees of opaqueness in window tinting, so make it as dark or light as your situation requires. When your employees have the correct work atmosphere, you'll reap as many benefits from it as they do.
If window tinting can help benefit your employees and your office space, we have many options just for you. From complete sun reflection for overheated, glare filled windows to more decorative film for interiors, we have your glass covered. With window tinting, you no longer have to worry about privacy, inside or out. If your place of business or office is in a high foot traffic area, window tinting can keep prying eyes out. You can create defined interior work spaces by using film decorated glass partitions without completely blocking the flow of light. To find out how window tinting can improve the appearance of your office while reducing energy bills, contact a window tinting company. Your local Bergen County window tinting glass specialists are here to help.